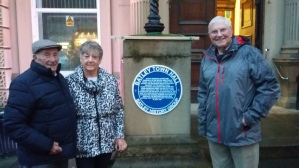 LATEST BLUE PLAQUE UNVEILED: The latest blue plaque, bearing the History Group name, was unveiled at the Town Hall prior to the commencement of September's meeting. The unveiling was undertaken by our chair, Wendy Storey, who is pictured centre with Malcolm Haigh and Peter Connor. It is hoped the next one will be at Batley Library in the very near future…
Our very own Jane Roberts and her husband Chris have had their book 'The Greatest Sacrifice' published to great acclaim and with the endorsement of the Rugby Football League itself. The book accounts for the casualties from WWI who had, prior to conflict starting, made their names in what was then known as the Northern Union. Other major sports have had books on the subject written but never had Rugby League been paid such an honour.
Copies of the book can be ordered via Jane, the cost, including postage is £14.50. Payment can be made either by Bank transfer or by cheque. If you are local you can collect direct at a cost of £13.50 per copy. Go to Jane's link on the CONTACTS page to order your copy (pasttopresentgenealogy). The book is also available to order from Scratching Shed Publishing and through all the usual book sellers. It is stocked by Philip Howard Books at Roundhay.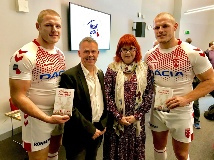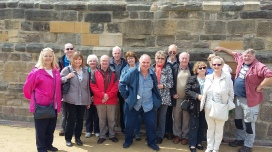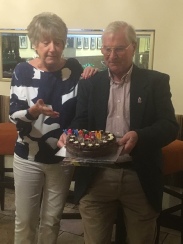 PETER CONNOR STEPS DOWN FROM COMMITTEE: After spending many years on the committee of Batley History Group, Peter Connor has decided to step down. This decision was taken to coincide with his 80th Birthday. Over the years Peter has been responsible for carving the memorial to Robert Edwards, which is situated by Bagshaw Museum and recently, Peter has overseen the design and development of the blue plaques.
The committee gave Peter a birthday meal to thank him for his service and here he is pictured with our chair Wendy, blowing out his birthday cake! Thank you for everything you have done for the group Peter…
BATLEY HISTORY GROUP VISIT TO THE REVAMPED ST GEORGE'S HALL, BRADFORD
The History group enjoyed another successful visit to the fabulous St George's Hall in Bradford. The group was given an insightful, guided tour into the fantastic history behind this splendid building. The afternoon was topped off with a cream tea. Head to the Photo Gallery page to see some more pictures taken on the visit…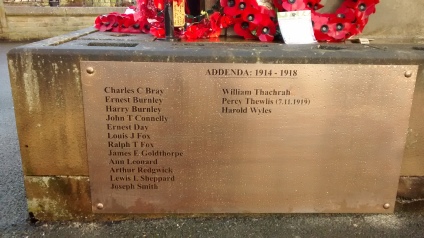 ADENDA LIST ON BATLEY WAR MEMORIAL
Thanks to painstaking research undertaken by members of BHG and Martin James at the Roll of Honour page, names of fallen personnel from Batley were discovered that did not appear on the town's war memorial. This has now been rectified and added to the monument.
Although the plaque is now there for all to see, it is hoped that an official unveiling ceremony will take place sometime in the coming Spring…
CORONA VIRUS UPDATE (MARCH 2021)
The country is finally taking tentative steps to lift the restrictions in place during the latest lockdown.
The government has now set out their road map out of lockdown, which means restrictions will be lifted gradually in stages.
It is hoped that come the late spring or early summer that we may finally return to some kind of normality where both committee meetings and public meetings can resume.
Of course, our speaker bookings will have to be confirmed as and when we know exactly when they can resume and a full list will be put on the meetings page as and when confirmation is made.
We are in constant contact with the people at the Town Hall with regard to as and when they think it will be possible for public meetings to resume.
We are desperate to welcome back all our members and hope to see one or two new faces too tagging along. Whilst it has been hard going for everyone, we have tried to keep some kind of momentum going to maintain your interests and appetites.
Please stay safe and fingers crossed, we will see you all very soon….
THE LITTLE BOOK CLUB
Following on from the completion of Project Bugle last year , BHG member Tony Dunlop, along with a small committee launched 'The Little Book Club'. This gives YOU the opportunity to write your own memories or short stories and have them published in, a little book format.
All you need to do is write approximately 5 pages on something similar to Microsoft Word and submit it to them via email. If you want to include photographs to accompany your story then send them too!
Links to the LBC Facebook page have now been added to the CONTACTS & LINKS page….
On 10th June the Batley History Group went to visit the historic Pontefract Castle where members got to see the dungeons close up. Go to the photo gallery to see more pictures from the visit and thanks to our committee member Godfrey Sutcliffe for making the visit a great success.
In 2012, a lovely young lady contacted our very own Malcolm Haigh as part of research she was doing into the history of Shoddy.
We are all rightly proud of the pioneering efforts of Benjamin Law that paved the way for this new method of recycling textiles into this new cloth.
Now, the lady in question Hanna Rose Shell has had her book published. The book delves not only to the history of shoddy but the effect it had, and continues to have in the modern age.
Hanna hails from Colorado in the USA and this coming Thursday (24th September), she will be partaking in an online interview to discuss her book in greater detail.
A link has been added for you to see this discussion in full:
https://www.youtube.com/watch?v=eGxEAWNDWrE
We wish Hanna all the greatest of success with her book and will eagerly await reading it ourselves….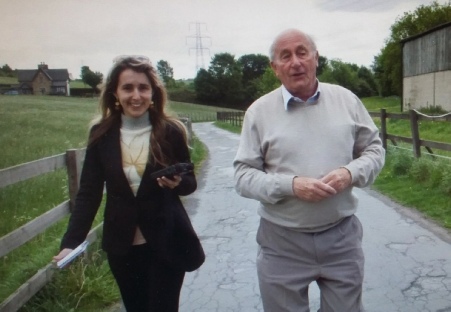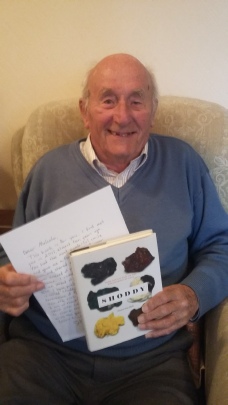 Batley History Group's Honorary President, Malcolm Haigh, was delighted to receive a copy of Hanna Rose Shell's book, which she consulted with him personally whilst researching the history of shoddy.
Malcolm was also bowled over somewhat by the lovely letter he received from Hanna thanking him for all of his help.
The book is performing well and we already know that it has stirred a lot of interest from the good people of Batley in the process.
PROFESSOR MICHAEL GREEN RIP
In April 2019, the History Group were treated to an absolutely brilliant talk by Batley-born pathologist Michael Green.
He had members in fits of raucous laughter with his tales of some infamous criminal names he had the dubious pleasure of being involved with. His talk was entitled 'Murderous Medics and Naughty Nurses' and ranked amongst one of the very best nights the group had had. We were saddened to hear of his recent passing and a lovely tribute can be found on the obituary published in the Yorkshire Post.
Click on the link to take you to Michael's obituary:
https://www.yorkshirepost.co.uk/news/people/obituary-michael-green-pathologist-3086812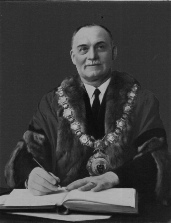 MAYORAL MEMORIES
The latest project being worked on by members of the BHG committee is a booklet commemorating each of Batley's former Mayors.
Just about each Mayor has their portrait on display in the Town Hall and now, it is hoped to put biographies together alongside their portraits for members to enjoy. There are quite a few names to go at and the full list will be put up on the Facebook page of those that the researchers require information upon but, if YOU have any memories yourselves or know the history of these proud servants of our town then please contact us via email or the Facebook page…